By Jenny @ Birdsandsoap
Plans by Ana White
Let me remind you a little about my man:
What can I say? He gets me. I wanted this year to be special.
Months ago, I requested my husband start saving bottle caps so that I could do something crafty with them. He took this task seriously and began buying every fancy beer he could find so he could "Give me a nice variety of caps" (his words, not mine). I wasn't sure his liver could take it, but he isn't one to back down from a challenge. Everybody has to contribute something around here. Thanks, hon.
This cooler stand is made out of basic lumber, has an attached drain, and optional wheels if you need it to be mobile. I chose a blue colorwash for a vibrant look and an inset panel with grouted bottle caps to make it fun. I would keep this out of the weather as the printing on the caps will fade over time if it is left in direct sunlight. I am giving specific measurements for this particular cooler. Of course, you will have to custom fit your cooler stand if you use a different size and your materials list may vary.
A note on measuring your cooler dimensions: This can be tricky with all of the rounded corners and sloped edges. Measure your cooler at it's largest diameter; that is usually around the top rim. To get an accurate height measurement, I measured from the ground up, if you try to measure just the surface of the cooler, those curvy edges can throw things off. Level your tape from the ground and go up from there.
Preparing your cooler:
You want to get the tightest fit possible in the stand. This requires a little disassembly and some cosmetic work.
First, I had to remove the lid from the cooler and get rid of the hinges since they would be going in separate cases on the finished product.
Easy peasy. Unscrew the hinges and turn to pop them out. Anybody else notice that this hinge looks like it is in pain?
Now that I have a smooth exterior and a separate lid, I can start building.
This 48 quart cooler measures 13×23 3/4" in diameter. I added a quarter of an inch each direction, allowing enough wiggle room just in case the cooler is warped or needs some finagling to get it into place.
I started with the front and rear frames first. The legs are 35" high; attach them together with 24″ horizontal frame pieces using 2 ½ pockethole screws.
The center brace is going to be the height of the platform your cooler will rest upon. Take the height of your cooler MINUS ¾" inches and mark for your center brace. The cooler will sit inside just above the frame, but once the top trim piece is in place (it is ¾" thick), it will sit flush with the top of the cooler.
I attached the bottom brace six inches up from the ground. This gives plenty of space to sweep a broom underneath when I am cleaning the patio. A girl's got to think ahead!
Here is the assembled front frame. This is the interior view. Attach the pieces together with 2 ½" pocket hole screws so they are on the inside.
Build two of these.
Attaching the side pieces:
I watered down the paint to create a wash. It is a matte effect that still lets the woodgrain show through a little. I started with a light coat, and then added additional coats for a more vibrant finish. I painted this entire project with a sample jar I bought on clearance for a dollar. Woot!
Our cat, Prince, needing some attention. Pet me, pet me!
His first guess was a baby changing table. Nope.
"Well, it can't be for me because I would never pick that shade of blue." Thanks.
Next he guessed a barbecue stand. What?
Finally, after I put the lid on top and performed a quick game of Charades demonstrating what it looks like to use a cooler, I got an "…Oooooh, it's a cooler box." By that time, the novelty had worn off.
Whatever. His work was done. Leave me to my cooler building, Babe.
I dry-fitted the cooler and it was nice and snug. Hallelujah!
Next came time to fill in the side panels. The side panel is made from (2) 1×6 pieces and a 1×3 in the center. I measured out my openings, cut them to fit, and pieced them in there one at a time. I sanded the edges to accentuate the planks. If you butt them up tightly together unsanded, they will just look like one board when you are done. I used wood glue and a brad nailer to hold everything in place. I nailed the boards in at an angle from the interior, so the outside is nice and clean. The boards are flush with the inside frame edges. I also glued up all the seams on the inside.
The rear panel is made from (5) 1×3 pieces and (2) 1×6 pieces. I left hairline cracks between the boards for an even fit across.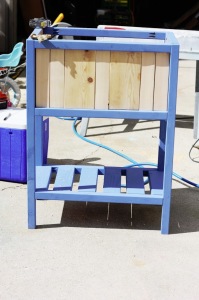 The front panel is made with a 1×6 piece on each end and a 2×2 piece to frame out the center panel section.
The top trim:
The top trim is built out of 1×3 material. I measured it to be ½" larger all the way around the exterior of the frame to give it a nice lip. Do this by adding 1" to the length and width of your cooler box. The corners are mitered, glued, and secured with a brad nailer.
Next, I took my cooler and put it upside down on top of the trim piece. I measured on each side, making certain the box was centered over the frame.
Mark with a pen all the way around the edge. This will give you the tightest edge between your cooler and the top of the frame.
I clamped a scrap board to give myself a nice straight edge for a guide and used my jigsaw to carefully trim out the interior edge. I am notorious for chewing things up with a jigsaw- so having a guide was a necessity. I went very slow around the corners, and then sanded all the edges for a nice, smooth finish.
See ladies? This is the gift that keeps on giving.
With the front panel in place, I mixed some leftover grout from our kitchen remodel and grouted between the caps. I love how it turned out! I don't know how it is going to hold up over time, but it looks awesome right now!
The drain on this cooler is roughly ½" in diameter. I purchased a short length of clear vinyl tubing measuring 5/8" around with a 1/2" interior diameter. It was still a little tight to fit over the drain spout, but that's good right? I stretched it out with needle-nosed pliers, fitted it over the cooler drain, and secured it with a cable tie. I used a piece that was about 1 ½" long.
With the cooler side of things assembled, now I fixed my attention on the stand.
Lid time!
The lid is framed out with 1×2 material for an interior casing, then a mitered 1×3 to give a nice border and allow space to fill the top in with paneled boards. *Please read all of this section for an important note on board widths.
I measured and built a simple frame with the 1×2. Glued and nailed it together:
Then I measured and built the 1×3 frame around this. It is mitered with 45 degree angles on each corner. They are not attached together at this point
The outer frame gets filled in with more boards. I used (4) 1×6 pieces and (1) 1×4 scrap I had in the center.
They fit perfect without having to trim anything down. These are nailed and glued into place from the underside too.
Ah, the irony. I love it!
With all of that assembled into one piece, you can fit your lid on the cooler and mark for hinges.
I attached a small shelf to the drain side because the pull handle to lift the stand will go on the left. I made two brackets out of 1×6 material and cut out a decorative design with my jigsaw. They are glued and nailed into place with the shelf nailed to the top.
The shelf is made from 12" 1×4 scraps glued together and trimmed out with 1×2's that are mitered around each edge to frame it nicely.
Next are the wheels-this is the last step!
I used (2) 2 ½" caster wheels mounted with pins to the underside. This was the easiest part of the entire project. I measured the height of the wheel and recorded the height measurement onto my legs, using a carpenter's square to keep my lines straight. My wheels measured 2 ¼" below the pins, so I used my circular saw to cut both legs on the right side of the cart. I adjusted my saw to 2" and was able to cut all the way through in one pass. You want the wheels on the right side of the cart because if you should need to tilt the cooler for draining, the handle to lift it will be on the left opposite the wheels.
I drew an "X" from corner to corner to find the center of the leg, then I drilled hole the same diameter as the pin deep enough for the wheels to fit.
These pins have a spring around the barrel that gives a snug fit. I used a hammer and gently tapped the wheels in until they were completely inserted.
I plan to put a clearcoat over the top of all surfaces in a couple of days. Anybody have any tips to protect the bottle caps from the sun? I'm worried about them fading over time. Curious if there is a product out there I don't know about.
Sam may not have been able to guess what I was making him, but he is certainly not complaining now!
Happy Father's Day to the best Dad and greatest husband a girl could ask for!
Linking up and partying here: