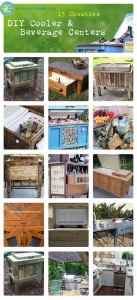 Hi Everyone!
I was asked last week to curate a board for Hometalk that is all things beverage. Since that has been my specialty as of late, I rounded up some inspirational and creative ideas for your outdoor living spaces.
There are not only cooler boxes, but creative twists on outdoor beverage stations too. Furniture from reclaimed materials, repurposed finds, and outdoor entertaining concepts that are sure to inspire some great summertime gatherings.
Are you a Hometalker?

I discovered Hometalk this past winter and I found myself wondering where it had been all my life! More like, "What rock have I been living under?" Because, apparently, a million other people were already "in the know." Either way, so glad to have found this great resource! I love this site.
Hometalk is a unique community of bloggers, and everyday people who are sharing inspiration of everything home related through their posts and photos. It is a great place to go to for advice, tips, and great ideas. There are many professionals on Hometalk too that amaze me with jaw-dropping projects beyond the scope of my DIYing self. Whether I am learning new ways to kill slugs in the garden, offering advice on landscaping dilemmas, or just admiring a job well done– I am always finding new inspiration!
Check out my board! Then get lost for a couple of hours exploring all of the best home ideas in one place!