I've been super busy lately, I'll give you three good reasons why:
These three are keeping me on my toes! So when Angie asked if I wanted to participate last month, I said yes because I took these pics WAY back when and they were hanging out on my computer just waiting to be shared.
Sad when you have to look on the internet to enjoy a clean house.
Seriously folks, five minutes after these pictures were taken, things got real and this room went back to being a dumping ground for everything in my house! I try to organize my supplies, but when I am in the middle of a project, I can drag them out like nobody's business and you are looking at one trainwreck of a craftroom!
My craft area is the room in the very back of our house. Our home was built in 1950, and I suspect this room was previously a porch. At some point (I'm guessing in the seventies), it was converted into part of the house. The acoustic ceiling tiles and bad texture job that cover the old wood paneling are dead giveaways. It is right off the kitchen, and where a window once sat above the sink overlooking the backyard, there is now the entry into this room. The kitchen sink now has a bar in front of it.
The desk is a project I did last spring. It's an L-shape, made from 3/4″ plywood. I used 1×2's to trim around the edges and finished it off with a little cove molding before I painted it white. Supporting the desk top are two oak store-bought file cabinets that I painted to match, along with a computer tower I built to support the far end. All of these pieces are separate, but the white paint (Heirloom Lace, by Olympic) keeps the furniture cohesive.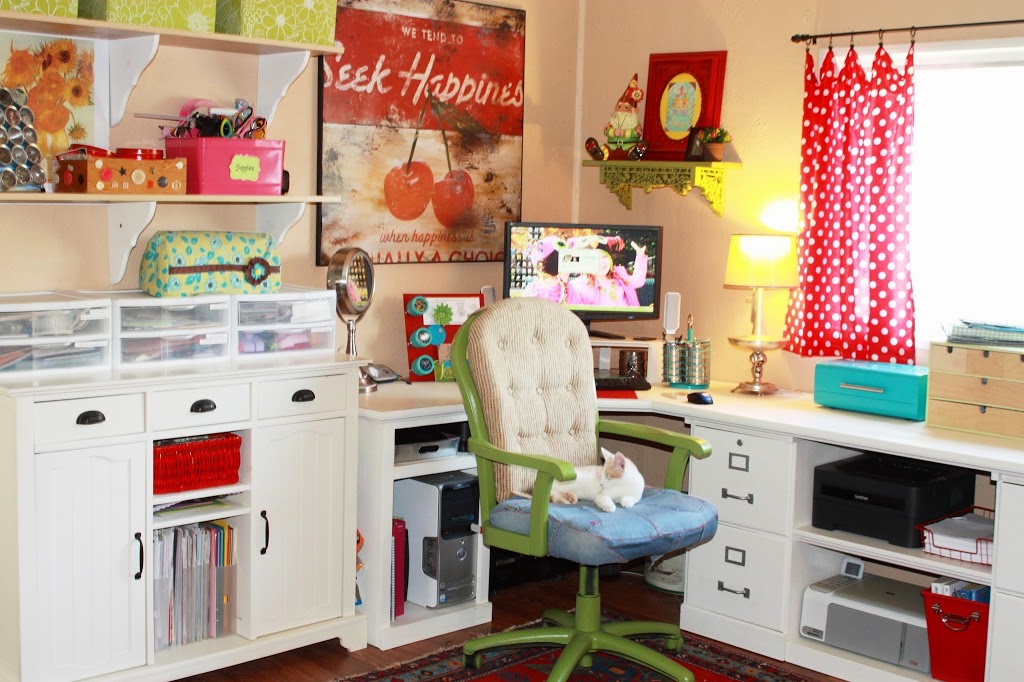 I love the desk! It is huge and gives me plenty of workspace. I cut up my old desktop to create the shelves that now hold my printers. One printer is for my coupon printing, and the other is for photos.
When I started to gather design inspiration for this room, I fell in love with the Rodney White print
that hangs on the wall. My husband surprised me with it one Christmas and I mounted it to the front of a wood frame I built from 1×2's. I painted the frame black and then used old roofing nails to secure the print to the front. I keep it right above my computer. The print reads:
"We tend to seek happiness, when happiness is actually a choice."
It's there to remind me of the condition of my heart. While I'm pouring over Pinterest, gathering inspiration, and pinning up a storm, I like to keep things in check. It's so easy to focus on what you don't have instead of being thankful for what you do. I really struggle with contentness and even though I've come a long way compared to when I was younger, I still like to have this here as a reminder to make the best of what I have in all circumstances.
Okay, I couldn't share my room without mentioning this one embarrassing thing. Why mention it? Because I KNOW I am not alone. I have this light-up makeup mirror on my desk. And next to it is a cup full of grooming tools.
Okay, back to the room tour. At the end of desk is a wing chair I recovered. I envisioned curling up with my kiddos and reading books there, but it has turned out to be just too much chair for this room. So, it's no longer there. It's in my kids' room. And soon it's getting booted out of there for a crib, so who knows where it will end up. But isn't it cute? I really loved it for this space. It added to the busy fun-ness.
On the third wall, I have a hutch and dining table set up for our homeschool station. They are cast-off's from my cousin that I painted a fun color (Valspar's "Twilight Meadow"). I used vinyl sheeting over the table and it has kept the table clean and unblemished for nearly 2 years. Best $4 I ever spent for that space! On each side are two tall bookshelves that were part of our old entertainment center. I couldn't bear to paint them; they are part of the Broyhill "Fontana" Collection, and I still love it. It's whitewashed pine from the nineties, but it has a timeless appeal, in my opinion.
Thanks for stopping by! Make sure to click over and see the rest of the great craft spaces in this tour!
Linking up and sharing here: